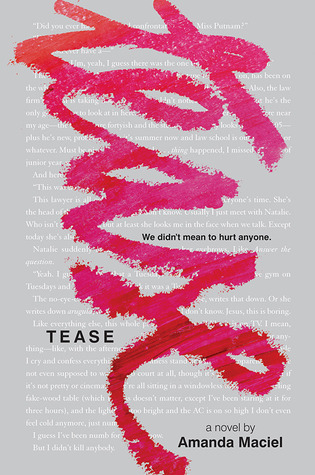 Tease
Author: Amanda Maciel
Publisher: Balzer + Bray
Number of Pages: 328
Release Date: April 29, 2014
Synopsis from
Goodreads:
From debut author Amanda Maciel comes a provocative and unforgettable novel, inspired by real-life incidents, about a teenage girl who faces criminal charges for bullying after a classmate commits suicide.

Emma Putnam is dead, and it's all Sara Wharton's fault. At least, that's what everyone seems to think. Sara, along with her best friend and three other classmates, has been criminally charged for the bullying and harassment that led to Emma's shocking suicide. Now Sara is the one who's ostracized, already guilty according to her peers, the community, and the media. In the summer before her senior year, in between meetings with lawyers and a court-recommended therapist, Sara is forced to reflect on the events that brought her to this moment—and ultimately consider her own role in an undeniable tragedy. And she'll have to find a way to move forward, even when it feels like her own life is over.

With its powerful narrative, unconventional point of view, and strong anti-bullying theme, this coming-of-age story offers smart, insightful, and nuanced views on high school society, toxic friendships, and family relationships.
******************************************************************
Even though I have a review copy of this, I let the release date come and go without picking it up. While I had seen a couple of fairly positive star-ratings for this one, it just sounded so...cringe-worthy. After I sincerely enjoyed the similar story The Truth About Alice, though, I decided to give this a try after all, and I am so glad that I did. Tease is important and thought-provoking and just so real.
Tease deals with a tough subject matter from a unique perspective. After a fragile young teen named Emma commits suicide a community turns on the two popular girls (and a couple of guys--although not nearly as much) who bullied the girl throughout the past year. The story is told from the POV of one of the accused, Sara. The story is told in non-linear way flashing back and forth between the present--the summer that finds Sara talking to a therapist and a lawyer while possibly getting ready to go to trial--and the past year that follows the Sara's and her best friend, Brielle's, torture of the girl.
Sara is an insecure girl who rides the coattails of the stronger-willed, more popular, Brielle. She can't believe that she is lucky enough to be dating a popular and cute senior named Dylan even if she isn't sure whether or not she is ready to have sex with him yet despite pressure to just get it over with from Brielle. She decides to go for it for the worst reason there is: because if she doesn't than she knows somebody else, Emma especially, will. See, Emma is the school "slut". She tries to be friends with the other girls, but she still goes after their boyfriends. Beautiful Emma with her gorgeous red curls has made it clear that she likes Dylan and that she is going to get him despite the fact that he is with Sara.
I'm just going to lay it out there. I liked Sara. I didn't like her actions, but I liked her. And I understood her. In junior high I was definitely a follower. I grew out of it in high school, but when I was in the ninth-grade (which is jr. high in WY), I was basically a lap-dog to a mean girl who ruled our small clique. When she was mad at somebody, I was mad at her. When she was mad at me, I did everything I could to get back into her good graces. Just thinking about it makes my stomach ache for the tiny, naive girl I was. Again, by the time I got to high school, I found my way out of that clique and formed true friendships that helped me grow into the woman I am now, but, yeah, I got Sara. I wanted to shake some sense into her, but I completely understood how things just snowballed out-of-control. She didn't like Emma, but she certainly didn't want her to die.
What I liked about this book is that Sara isn't vilified. Her actions are despicable, but she is still just a young girl who had no idea that her actions would have such dire consequences. I also really liked how Emma wasn't canonized. She isn't shown as some angel. She definitely goes after Dylan and plays the game of teenage girls. She was obviously a sad and confused girl, but in my (maybe not popular opinion) I don't think that the bullying could have been the only reason she committed suicide. We'll never know what really caused her to go to such horrible extremes, but that's how life is. In real life there will always be a question of WHY? What could cause somebody to just give up on life completely?
The only issue I had with this book is pretty minor: I feel like about 50 pages or so could have been shaved off as the later half starts to drag, but, again, that's a minor complaint. I didn't LOVE this book because it would be hard to love anything with such a sad, hard-hitting subject matter, but I did admire it and I would absolutely recommend it. When I have my own secondary classroom, this book will definitely be on my shelves for students to read. It really is such an important book. It's easy for teenagers to forget that their words and actions hold weight. It's important to remind teenagers that high school will be over soon enough and that they still have their whole lives in front of them. What seems SO important now will be something they will laugh at in 10 years. You just have to get through it.
Definitely recommend.