That Awkward Moment
Director:
Tom Gormican
Writer: Tom Gormican
Starring: Zac Effron, Miles Teller, Michael Jordan, Imogen Potts
Rated: R
for sexual content and language throughout
Synopsis from IMDb:
Jason has just been dumped, but he didn't even realize they were going out. Meanwhile, Mikey's wife has just asked him for a divorce, and perpetually single Daniel is still single. The three best friends are determined to stay single together and just have fun. But then Jason meets Ellie who just might be perfect for him, Daniel starts to realize that his gal pal Chelsea might be perfect for him, and Mikey has always thought that his wife was perfect for him. The boys are going to have to juggle their single life with their romantic entanglements and it's going to get awkward.
**********************************************************************
MY THOUGHTS:
If I'm remembering correctly, the marketing for this movie was geared towards men--that this movie was a "bro's flick", but do not be fooled. This movie is a straight-up chick flick, and not a very good one, at that. The premise of the film is same old, same old: After finding out that his wife has been cheating on him--with her lawyer--and now wants a divorce, Mikey (Jordan), turns to his friends for comfort. His two pals, Jason (Efron) and Daniel (Teller) rally around him and the three make a pact to swear off relationships and focus only on casual hook-ups and having fun. So, wouldn't you know it, all three guys find a girl who may end up being that special somebody, but have to hide it from their pals. Do you think that in the end, they will all grow as people and find out that *gasp* men have feelings and can fall in love, too?
The lead of this film is, without a doubt, Zac Efron who plays pretty, bad boy Jason. He narrates the film and explains "that awkward moment" as when a girl dares to ask: Where is this relationship going? He has a long string of booty calls on his roster, but knows it is time to cross a girl off his list when the "awkward moment" arises. Jason works in one of those only-on-film dream jobs designing covers for a boutique publisher in a gorgeous open-space offices with one of the films other stars, Daniel. Jason sleeps with gorgeous Ellie (Potts), but in the morning believes that she is a prostitute and sneaks out, only to have her show up at the office as a client (hilarious). From there he begins to fall for the vivacious beauty--but, again--has to keep it from his bros or be labeled a traitor. It's hard though because Ellie ISN'T LIKE OTHER GIRLS. She's a COOL girl (as denoted by the fact that she drinks scotch and plays Playstation *eye roll*).
What offices look like
Daniel, Jason's side-kick, has a "wing woman" named Chelsea (Mackenzie Davis) who helps him pick up women in bars--and whom he helps pick up men. You get the impression that the two have been doing this for quite some time, so the out-of-nowhere way they start hooking up just seems weird.
Mikey, the only one of the three who seems even remotely grown up--being a doctor and having a wife--can only focus on his failed marriage and trying to get his wife back. We are told that the three were friends in college which is the only reason why their friendship makes sense now.
She plays video games, you guys!
Look, I'm a fan of the male-centered comedy, and I do not turn my nose up at gross-out humor. Frankly, I have the sense of humor of a 14 year-old boy. I just do. I saw Old School AND Office Space in the theater. My problem with this film is its predictability and the fact that none of the gags are funny. The story is a half-baked concoction that one would expect from a Katherine Heigel film. I definitely never laughed out loud a single time while watching this film. There's a running joke about how Daniel takes a shit every time he comes over to Jason apartment that isn't funny the first time, and certainly isn't funny the last time. There is an incident where one of our couples has sex in the bathroom at a family party and forgets to lock the door. The horror! Also, I'm sorry, but one of my pet peeves is when characters keep their clothes on during sex. Girls just don't wear bras during the act, and guys certainly don't wear their t-shirts. It's not like I need nudity. There are certainly ways to film a love scene without showing areas that an actor/actress would prefer not to have filmed, OR you can just leave these scenes out of your film if you aren't going to film them realistically.
They sure look pretty, don't you think?
The only saving grace of this film was the likability of the cast. Zac Efron, while not the best actor, has a certain charm and is seriously adorable. The film is a relatively quick one, but there is never any doubt about how it was going to end. Possibly worth your time if you are home sick on a Tuesday afternoon, but don't expect too much. Other than that, I would skip this one.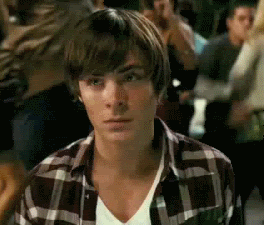 Yep. That about sums it up, Zac.