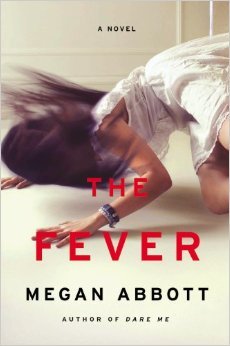 The Fever
Author: Megan Abbott
Publisher: Little, Brown and Company
Number of Pages: 320
Release Date: June 17, 2014
Synopsis from
The Fever:
The panic unleashed by a mysterious contagion threatens the bonds of family and community in a seemingly idyllic suburban community.

The Nash family is close-knit. Tom is a popular teacher, father of two teens: Eli, a hockey star and girl magnet, and his sister Deenie, a diligent student. Their seeming stability, however, is thrown into chaos when Deenie's best friend is struck by a terrifying, unexplained seizure in class. Rumors of a hazardous outbreak spread through the family, school and community.

As hysteria and contagion swell, a series of tightly held secrets emerges, threatening to unravel friendships, families and the town's fragile idea of security.

A chilling story about guilt, family secrets and the lethal power of desire, The Fever affirms Megan Abbot's reputation as "one of the most exciting and original voices of her generation" (Laura Lippman).
*****************************************************************
I've been sitting on this review for the past few days because, frankly, I really just haven't wanted to write it. Don't you hate that? Sometimes reviews are so easy...and sometimes they are like pulling teeth.
I've seen The Fever billed as both a YA and an adult book. In my opinion, this book is definitely an adult novel, but because the focus is on a group of high school girls, those who usually read YA will probably feel comfortable with this one. It follows three members of the Nash family: father, Tom, who is a teacher at the high school where the action takes place; son, Eli, who is popular and well-liked with girls throwing themselves at him on a fairly regular basis; and daughter, Deenie, a teenage girl who is just trying to get through high school while dealing with the shit a high school girl has to deal with: boys, friends, school, etc.
Deenie is shocked when her best friend, Lise, has a violent seizure in class at the beginning of the story. Soon Lise lying in a coma in the hospital, and other girls start to show physical and mental symptoms to some mysterious ailment that seems to only be affecting the girls in this small town. What is blame for this affliction? Is it the fenced-off lake that is so polluted it actually glows? Is it the HPV vaccine that was recently given to the girls in the town? Or is it something else--something otherworldly?
I have to admit: I was very intrigued by this novel for the first, oh 90% of it. I had no idea what the cause was, but I certainly wanted to figure it out. I also have to admit that I was completely disappointed by the pay-off which dramatically changed how I felt about this book.
This book does have several things going for it: the mystery is intriguing, the family dynamics are interesting, the hysteria of the parents as they try to figure out what is happening to their daughters is realistic, and the look at teenage girl life is spot-on. Abbott certainly understands "girl world". Throughout the book I found myself identifying with Abbott's view of the teenage girl. The shifting landscape of the Deenie and her group of girlfriends was so realistic. The friendships reminded me so much of my own high school life when alliances within my own group were constantly forming and reforming. Teenage girls, man, they can be a brutal bunch--as most of you know, I'm sure.
This book is also very much about sexual awakening. The need to lose your virginity just because you are the last one. Deenie compares it to Agatha Christie's And Then There Were None which is apropos and kind of hilarious. Eli is surprised when he gets explicit texts from girls only in their underwear, or by the brazenness of the girls who come to his house for one purpose.
Which brings me to my biggest pet peeve: the use of the word mouth over and over and over throughout the book: wet mouths, open mouths, dark mouths. Mouths, mouths, mouths. Ugh! It got to the point where I wished I would have counted. For real, this could be a new drinking game.
Overall and again, while I was so intrigued by the novel, by the end I was almost bitterly disappointed. The whole teenage girl aspect, as well as the look at small-town paranoia, the effects of divorce, the politics of friendship, etc were all very well-done, though, so the book isn't without its merits. Looking at the star-ratings on GR, I'm definitely in the minority, but it is hard for me to recommend something that was ultimately such a let-down for me. So I would take my opinion with a grain of salt and read a couple of reviews before deciding whether or not to give this one a try.
Cannot recommend
*I received an advanced reader's copy of this novel from the publisher via Edelweiss in exchange of an honest review.*