Waiting on Wednesday
is a weekly event hosted by Breaking the Spine that spotlights upcoming releases we are eagerly anticipating. Click the link to see the original post plus a whole slew of links to other blogs. After you read this one, of course

.
Bitter Greens
Author: Kate Forsyth
Publisher: Thomas Dunne Books
Release Date: September 23, 2014
Link to
Charlotte-Rose de la Force has been banished from the court of Versailles by the Sun King, Louis XIV, after a series of scandalous love affairs. She is comforted by an old nun, Sœur Seraphina, who tells her the tale of a young girl who, a hundred years earlier, is sold by her parents for a handful of bitter greens...

After Margherita's father steals from the walled garden of the courtesan Selena Leonelli, he is threatened with having both hands cut off, unless he and his wife give away their little girl. Selena is the famous red-haired muse of the artist Tiziano, first painted by him in 1512 and still inspiring him at the time of his death. Selena is at the center of Renaissance life in Venice, a world of beauty and danger, seduction and betrayal, love and superstition.

Locked away in a tower, Margherita sings in the hope that someone will hear her. One day, a young man does.

This sumptuous novel holds the stories of three women, braided together to create a compelling tale of desire, black magic and the redemptive power of love. Kate Forsyth's Bitter Greens is an impressive feat of storytelling.
Because Gena's life is unhappening around her.
Why I'm Excited:
I've been wanting to read this retelling of
Rapunzel for FOREVER. I'm so psyched it is finally being released in the US. I cannot wait to get my hands on this. I prefer the gorgeously illustrated Aussie cover, but whatever. Want. And yay!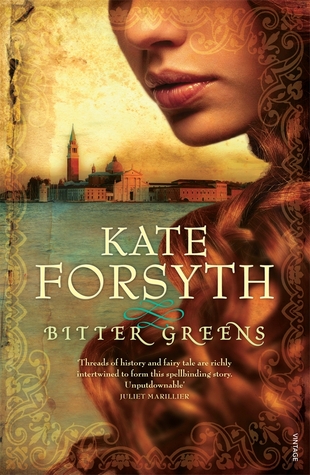 You might recognize the book from these covers
What are you waiting for on this Wednesday? Link me up!
Hey lovely GFC and new followers, please follow me by Bloglovin as we all know Google Reader has gone/is going by the wayside. (I like to follow back, so please let me know if you're a new follower--and leave a link!) Thank you!!!