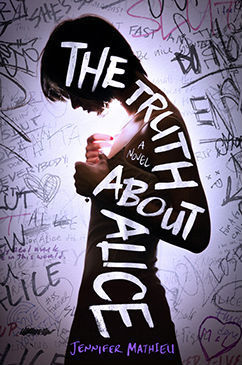 The Truth About Alice
Author: Jennifer Mathieu
Publisher: Roaring Book Press
Number of Pages: 208
Release Date: June 3, 2014
Synopsis from
Goodreads:
Everyone has a lot to say about Alice Franklin, and it's stopped mattering whether it's true. The rumors started at a party when Alice supposedly had sex with two guys in one night. When school starts everyone almost forgets about Alice until one of those guys, super-popular Brandon, dies in a car wreck that was allegedly all Alice's fault. Now the only friend she has is a boy who may be the only other person who knows the truth, but is too afraid to admit it. Told from the perspectives of popular girl Elaine, football star Josh, former outcast Kelsie, and shy genius Kurt, we see how everyone has a motive to bring – and keep – Alice down.

*********************************************************************

MY THOUGHTS:
I have to admit that I was pretty hesitant to read this one. I tend to stay away from "issue" books, but after seeing some pretty positive star ratings, I decided to give it a try. I'm so glad I did because I ended up really enjoying The Truth About Alice, and would definitely recommend it if you are looking for a contemporary that is a little deeper than the usual summer fare.


The Truth About Alice is a book about Alice Franklin, but it is not Alice's story. Instead, it is the story of four teens--two boys and two girls--who go to Alice's high school. This is a book about perceptions, about slut shaming, and about how rumors become fact in a way that the truth doesn't even matter anymore.

After a party in which she allegedly had sex with two different guys, Alice Franklin is labeled the school slut. Although the singular incident may have been forgotten about eventually, soon after one of the guys--popular quarterback, Brandon--dies in a car accident. An accident that is blamed on Alice. Before she knows it, the whole school--and town--are talking about her, and her friends are shunning her, including her best friend, Kelsie.

Kelsie is a girl who moved to the small town a few years before. An outcast at her old school, she is delighted when Alice befriends her. Alice doesn't even seem to mind her uber-religious mother. Kelsie feels guilty turning her back on Alice, but she is finally being accepted by the popular crew and is afraid that standing by Alice will make her an outcast.


Elaine is the school's queen bee. It was at her party where Alice supposedly slept with Brandon and the other dude. While she's not in love with Brandon, Elaine has always felt territorial of him. The two often hook up and, as the two most popular kids in school, she feels like he belongs to her. She is still carrying a grudge against Alice from when she and Brandon hooked up back in the 8th grade when Elaine and Brandon were "on" at the time. She feels that Alice is getting exactly what she deserves.


Josh was Brandon's best friend. Also a star football player, the two ruled the school together. Even though Josh could get with basically any girl he wants, he would rather just hang out with his friends. He is the one who points a finger at Alice for the cause of the accident--saying that she was relentlessly texting Brandon while he was driving.


Finally, there is Kurt. Kurt is a shy genius who has been infatuated with Alice for years. When he discovers she is struggling with math, he offers to tutor her and becomes the only person in school who bothers to talk to her at all.


The Truth About Alice is an ambitious book. Multiple points of view is, and has always been, my favorite type of story-telling. I love to see a story from different angles. The four characters all have distinct voices, and I was never once confused about who was talking. This book is about slut-shaming, but it is also about other serious topics (that I won't name here for fear of spoilers). It was interesting to me how even the adults of the town knew about Alice and they weren't afraid to judge her even though she is basically a child.

Again, I really enjoyed this book. The slim book is a quick read, and it easily held my attention the entire time. I've been going through a bit of a reading slump, and this book was exactly what I needed. In the summers I tend to read fluffy contemporaries, but I'm glad I picked this up instead.

Highly recommend