Weekly Rewind
The new books on my shelves and my week in a nutshell.
Throughout my student teaching semester I was using my weekend post as a way to let people know what's going on in my life, so I've decided to rename my weekend post because this feature is more personal than just what books I've received. The Weekly Rewind will be about what's going on with me and my blog, as well as about the books I've added to my shelves.
Life: I seriously cannot believe that I'm down to just a little over two weeks of summer break. I've just been reading and sleeping and eating and being on break. I'm not ready for it to be over...and I'm definitely not ready to be away from my husband for yet another year.
Blog and reading:
I was actually quite productive on the blog this week. I posted a review for
P.S. I Like You
(which was adorable but predictable), a
WoW
, and I started a new feature called Natflix on Netflix where I'll review movies/shows I've watched on streaming channels. This week I reviewed a movie called
Final Girl,
which is currently on Netflix. It has great cast, but suffers from an obviously very small budget. I'm currently in the middle of half a dozen books. I'm reading Tell the Truth Shame the Devil, The Hopefuls, How to Hang a Witch, and Simon and the Homo Sapien Agenda. I'm also rereading Maine and Sloppy Firsts. Yes, I know that is ridiculous, but that's just how I roll. I've been listening to Eligible, but I'm probably going to switch to Truly, Madly, Guilty because I know I won't be able to renew it. I'm probably also not going to be to finish it in my car as I'm currently leaving my house at a fairly consistent rate of once every three days or so. Lol.
New Books: Just a couple on the review book front this week, but I did buy a couple of books, and my library habit is as strong as ever. So without further ado, I hope you are all having fabulous weekends!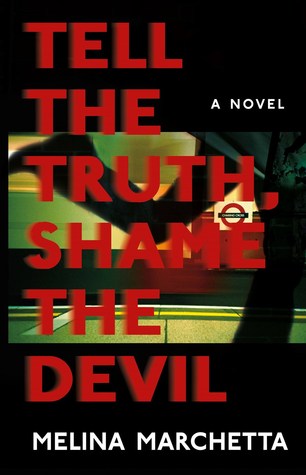 I'm roughly halfway through this one and it is intriguing. I've not read the author's YA, but I know a lot of people are excited for this one. It is definitely adult, though, following a European police officer who is trying to figure out who planted a bomb on a bus full of kids on a summer excursion--including his daughter.
This is a typical pact to lose the big V, only with senior girls instead of boys. It sounds cute enough, if a bit tired and cliche.
I've been meaning to read this one for awhile now. I'm so glad they didn't redesign the cover for the PB edition.
This Amazing Race type story featuring two sisters sounds like a lot of fun.
What I snagged from the library
Books:
This was one of most anticipated books of the year. I've only read the first chapter and will definitely give it a bit further, but the narration isn't grabbing me the way the books I end up cherishing do. The main character has already been clumsy in front of the cute boy next door...and I just, blah.
This author's Girls in White Dresses is one of my all-time favorites. I've reread it half a dozen times these past few years. I'm really enjoying this one so far.
Audio:
I love the woman who does the narration for Moriarty's audio books (I'm assuming its the same person who did the last two), so I'm very excited to listen to this.
Movie:
The Witch
I was so excited for this after reading a couple of Sundance rave reviews. We watched it last night...and it was just weird. Definitely puts you on edge, but just weird. I didn't really like it.
Well that's it for me this week. Feel free to leave a link to whatever weekend post you do (Stacking the Shelves, In My Mailbox, etc). I love to see what books people have recently snagged and especially enjoy hearing about my fellow bloggers' weeks. I hope you are all having a fabulous weekend!