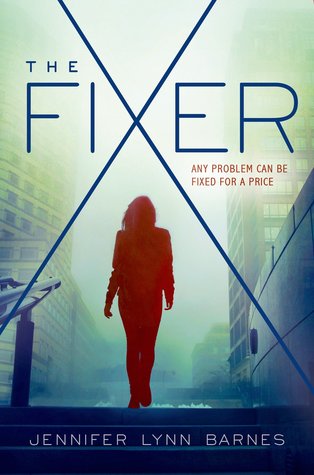 The Fixer
Author: Jennifer Lynn Barnes
Publisher: Bloomsbury
Release Date: July 7, 2015
Synopsis from
Goodreads:
:
This thriller YA is Scandal meets Veronica Mars.

Sixteen-year-old Tess Kendrick has spent her entire life on her grandfather's ranch. But when her estranged sister Ivy uproots her to D.C., Tess is thrown into a world that revolves around politics and power. She also starts at Hardwicke Academy, the D.C. school for the children of the rich and powerful, where she unwittingly becomes a fixer for the high school set, fixing teens' problems the way her sister fixes their parents' problems.

And when a conspiracy surfaces that involves the family member of one of Tess's classmates, love triangles and unbelievable family secrets come to light and life gets even more interesting—and complicated—for Tess.

Perfect for fans of Pretty Little Liars and Heist Society, readers will be clamoring for this compelling teen drama with a political twist.
********************************************************
I don't watch the show Scandal, but as soon as I saw the synopsis for this book I thought: well, it was only a matter of time before a YA author figured out how to cash in on the show's success. That's not necessarily a bad thing, but it does make it slightly unoriginal/contrived. If you can look past the obvious: This is Scandal for the YA crowd vibe, however (which I could), what you get is a fun and entertaining--albeit, fairly implausible--book.
Tess Kendrick is sixteen. She has spent almost her entire life living on a Mountain West ranch with her grandfather after the death of her parents when she was a toddler. Her grandfather is battling with Alzheimers, and Tess knows they probably can not go on living the way that they have. Her sister Ivy, who is seventeen years her senior, has always been a bit of a mystery, and hasn't been around at all for the last several years. So Tess is a bit resentful when Ivy sweeps onto the ranch and takes Tess away to live with her in Washington DC while placing their grandfather in a specialized home in Boston.
In our nation's capital, Tess's life is completely different than the one she is used to have. She now goes to a posh private school that is filled with the children of those that run our county. She soon finds out through those students that her sister is a "fixer"--somebody in Washington who gathers secrets on the rich and powerful and who makes problems disappear. The students at Hardwicke Academy assume that Tess is following in her sister's footsteps and begin to bring their problems to Tess to help them solve--even more so when she actually does help solve the VP's daughter's problem in her first week at her new school.
Soon the main problem/issue of the book arises: a supreme court justice dies and the daughter of the president's doctor, who Tess has befriended, thinks he may have something to do with it. So begins the unraveling of a conspiracy involving more people than Tess can fathom, and a rollicking ride that is fun and fast-paced throughout.
I really enjoyed the author's The Naturals (although I have yet to read the sequel), although I was a little disappointed in the love triangle that book/series has. So I was so happy when this book read just as quickly, but was sans any romance. There is definitely the possibility to romance in this series, but I loved that it was void of one here. This allowed for both more character development, and for the plot to stay action-focused.
I really loved all of the characters in this one, too. I loved that Tess was strong and independent. I loved that she loved the grandfather that raised her, and that she is willing to stand up for the little guy/gal when she can see that they are getting shafted. I also really liked her sister and the two men in her life: Adam and Bodie.
Overall, I really enjoyed this one. Again, it's pretty unrealistic, but as long as you can just go with it--which I could--it is a fun, quick, and easy ride. Excited to read the next one.
Recommended
, especially for those that like quick, action-filled contemporaries.