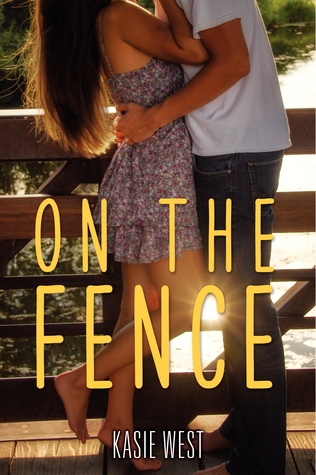 On the Fence
Author: Kasie West
Publisher: Harper Teen
Number of Pages: 320
Release Date: July 1, 2014
Synopsis from
Goodreads:
She's a tomboy. He's the boy next door…

Charlie Reynolds can outrun, outscore, and outwit every boy she knows. But when it comes to being a girl, Charlie doesn't know the first thing about anything. So when she starts working at a chichi boutique to pay off a speeding ticket, she finds herself in a strange new world. To cope with the stress of her new reality, Charlie takes to spending nights chatting with her neighbor Braden through the fence between their yards. As she grows to depend on their nightly Fence Chats, she realizes she's got a bigger problem than speeding tickets-she's falling for Braden. She knows what it means to go for the win, but if spilling her secret means losing him for good, the stakes just got too high.

Fun, original, and endearing, On the Fence is a romantic comedy about finding yourself and finding love where you least expect.
***********************************************************************
Kasie West has made quite the YA splash over the past year or so. First she brought us the fun Sliding Doors meets X-Men novel Pivot Point (and its sequel), then last summer she brought us the cute YA romance The Distance Between Us. These books have made Kasie West an auto-read for a lot of bloggers (myself included), so I was ecstatic when this popped up on EW. On the Fence is a cute, if fairly unassuming, YA romance, and the perfect book for the sunny 4th of July weekend while laying on the beach or by the pool.
On the Fence follows Charlie Reynolds, a tomboy who easily holds her own against her four older and bigger brothers. Her mother passed away when she was little, and while her father--a police officer--does the best that he can, Charlie really doesn't have any female role models in her life. Something that she is, frankly, used to, and mostly fine with. After she gets pulled over, once again, for speeding, her father decides that she needs to take responsibility for her actions and get a job to pay off the fine. She finds employment at a small boutique which brings about one of the two changes in her life during this particular summer. For the first time in her life, she has to dress in something other than hoodies and sneakers. She also becomes close to both her employer and a couple of the girls who come in to the shop. While these things don't change her into a girly-girl, it does make her see the value in female friendships and girly things like make-up.
The other major change is that she finds herself night after night at the fence that splits her property from that of Braden's her next-door neighbor. These nightly talks help Charlie forget about the nightmares of her mother's death that plague her. They are also making Charlie see Braden, a boy she has known forever and who she has always treated as a fifth brother, in a whole new light.
I really enjoyed On the Fence. I loved her family and the way they were portrayed. I loved Braden. Mostly,
I loved Charlie and her tomboy ways.

This book is very simple. It stays grounded by the death of her mother and the mysterious circumstances surrounding her death, but it is still incredibly light and cute (without being too saccharine). It could have easily been deeper and more substantial, but it doesn't need to be. I kind of wish the four brothers would have been differentiated more. I didn't feel like I really knew any of them, they are really more a unit: The brothers, but that is a small complaint--and honestly not really even a complaint. Sometimes you just need a simple read, and this one fits the bills.
Overall, I found On the Fence to be perfectly pleasant. It's not a book that is going to stay with me for any length of time, but I had fun reading it. Kasie West's writing is easy and sweet without being too fluffy. I usually love super cute love stories, but lately I've been finding myself getting drawn to books with more...heft, I guess. So I was so happy to find myself really enjoying this one.
*I received an advanced reader's copy of this novel from the publisher via Edelweiss in exchange of an honest review.*