Weekly Rewind
The new books on my shelves and my week in a nutshell.
Since I started this blog I've participated in Stacking the Shelves, which is a weekly feature hosted by
Tyngas Reviews,
and
I'm going to continue linking to that meme. Throughout my student teaching semester I was using my weekend post as a way to let people know what's going on in my life, so I've decided to rename my weekend post because this feature is more personal than just what books I've received. The Weekly Rewind will be about what's going on with me and my blog, as well as about the books I've added to my shelves.
Life: Holy moly, exhaustion is teaching 8th graders on Halloween when Halloween falls on a Friday! For absolutely NO reason, I woke up at 4:45 this morning and could not go back to sleep for the life of me. It's almost 9 now, and I am definitely hitting the hay as soon as I type this. Honestly, it wasn't TOO bad. My one class was a bit insane, but they were doing their Salem witch trial reenactments today (which was hilarious when they were in costumes) which they were pretty into. I debated just showing a movie, but figured it would be more fun for them if they were more active and watching their classmates acting out the various trials. This weekend I HAVE to finish reading the county essays for a meeting with the vice principal next week. I still about 60 to get through. I'm going to try to tackle half of them on Sat and the other half on Sun. I ALWAYS do this thing where I bum around on Sat and then hate life on Sun when I have to get everything done. And every single time I lecture myself about getting half the work done on Sat so it doesn't happen the next time. If only I would listen to the smarter part of my brain more often. It really does know what it is talking about.
I went down to my sister's last weekend for my niece's birthday party. My sister and her husband took me to a Halloween party Saturday night at one of the nicest houses I've ever been in. These people had this gorgeous indoor swimming pool room that had a bar and a fireplace and several sitting areas. Their master bedroom and the living room both had sets of double doors that opened up to the pool. Rich people, man, it must be nice. I danced all night with my sis which was so fun--and exactly what I needed.
I'm down to 3 weeks left before my next trip home. I get the entire week for Thanksgiving (YAY!!!), so I'm flying out the Friday before after school. Sometimes 3 weeks seems like forever, but honestly each week goes by pretty fast. Life is pretty much just a crazy blur right now: Teach, grade, plan, sleep, repeat.
New books: No review books this week which is good. I'm SOOOO behind that I cringe just thinking about it. As much as I miss reading, I just cannot feel guilty about it. I have been slowly reading the Lena Dunham book which I'm enjoying quite a bit. I read someone else say that if you like Girls you'll probably enjoy the book. I'm going to have to agree with the sentiment. I really enjoy Girls. I just like Lena Dunham. She's a weirdo, but I like that she isn't afraid to just put her shit out there. I do have a couple of fun things to share, though, so without further adieu, I hope you are all having a fabulous weekend.
The Target exclusive CD of Taylor Swift's 1989. I bought this on the way home from school tonight (I deserved a little present after today). I'm listening to it now, and am loving it so far.
I meant to read this anti-superhero book when it first came out, but just never got around to it so I couldn't resist snagging the PB.
What I snagged from the library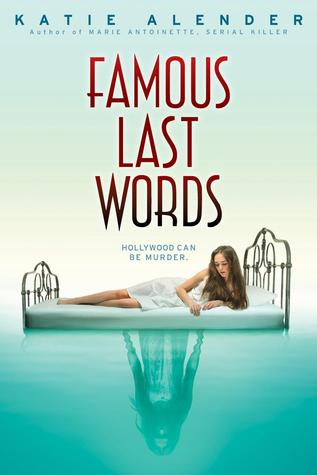 Books:
I had the e-arc of this, but I wasn't crazy about the format and so wanted to wait until it came in at the library. I've heard nothing but good things about this Aussie author and this book about two girls at an outdoor education camp.
A Hollywood ghost story. Perfect for this time of year.
Movies:
The To-Do List
I love Aubrey Plaza. She is so funny on Parks and Rec. I'm excited to finally watch this film about a girl who wants more sexual experiences before starting college.
Palo Alto
I don't know a whole lot about this movie besides Emma Roberts plays a girl who is crushing on her soccer coach. I'm curious about Gia Coppola who directs. The Coppola's are obviously Hollywood royalty, but this is the first of her films I (will) have seen.
Well that's it for me this week. Feel free to leave a link to whatever weekend post you do (Stacking the Shelves, In My Mailbox, etc). I love to see what books people have recently snagged and especially enjoy hearing about my fellow bloggers' weeks. I hope you are all having a fabulous weekend!