Waiting on Wednesday
is a weekly event hosted by Breaking the Spine that spotlights upcoming releases we are eagerly anticipating. Click the link to see the original post plus a whole slew of links to other blogs. After you read this one, of course

.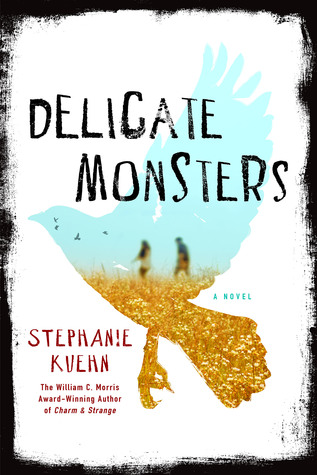 Delicate Monsters
Publisher: St. Martin's Press
Release Date: June 9, 2015
From the Morris-Award winning author of
Charm & Strange
, comes a twisted and haunting tale about three teens uncovering dark secrets and even darker truths about themselves.
When nearly killing a classmate gets seventeen-year-old Sadie Su kicked out of her third boarding school in four years, she returns to her family's California vineyard estate. Here, she's meant to stay out of trouble. Here, she's meant to do a lot of things. But it's hard. She's bored. And when Sadie's bored, the only thing she likes is trouble.
Emerson Tate's a poor boy living in a rich town, with his widowed mother and strange, haunted little brother. All he wants his senior year is to play basketball and make something happen with the girl of his dreams. That's why Emerson's not happy Sadie's back. An old childhood friend, she knows his worst secrets. The things he longs to forget. The things she won't ever let him.
Haunted is a good word for fifteen-year-old Miles Tate. Miles can see the future, after all. And he knows his vision of tragic violence at his school will come true, because his visions always do. That's what he tells the new girl in town. The one who listens to him. The one who recognizes the darkness in his past.
But can Miles stop the violence? Or has the future already been written? Maybe tragedy is his destiny. Maybe it's all of theirs.
Lately, I've been wanting books that are a little...darker. I don't know why. I love a fun, fluffy contemporary, but sometimes I just crave something with real depth. Again, not even depth, but darkness. I've been very curious about this one since stumbling on this awesome title, and I was thrilled when I saw it finally has a cover--and a pretty cool one, at that. I'm very excited for this one.
What are you waiting for on this Wednesday? Link me up!
Hey lovely GFC and new followers, please follow me by Bloglovin. (I like to follow back, so please let me know if you're a new follower--and leave a link!) Thank you!!!