My biggest pet peeve is when beautiful HBs turn into lackluster PBs. I completely understand that publishers may choose to change the cover due to various reasons, low sales especially, but the thing for me is: I don't buy new hardcover books. Ever. I can't afford them and I just simply prefer soft covers. Trade PB has always been my preferred format. So when I'm salivating over a HB cover only to have it change before it comes out in PB, it makes me CRAZY. Publishers would probably make MORE money on PB sales if they kept the amazing HB covers!
That's why I call this post:
Today's Pick: Me and Earl and the Dying Girl by Jesse Andrews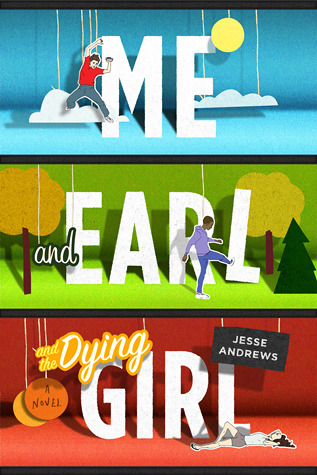 This post will be a bit different than normal because THANKFULLY this isn't a hardback to paperback change, but a original to re-issue change. I read this book back in 2012 when it first came out and loved it. It is funny and original and just awesome. When I found out it was being made into a movie, I was excited, but knew I needed to re-read it because over 3 years is way too long for my book-memory. I was pretty bummed when I found out that with the movie also came two new covers the movie tie-in (below) which is to be expected, but also this yellow cover as the re-issue. Honestly, it isn't the worst cover ever, but WHY would you change this magnificent, colorful, amazing cover that already exists? It makes no sense to me. Luckily, I was able to find the paperback in the original cover this week (which is why this post is happening months after the re-issue...).
Has anybody seen the movie yet? It looks good...although if memory serves me correctly (which it might, you know, not), there was no romance in this book like there seems to be in the movie. This wasn't The Fault in Our Stars Part II, or anything.
(Honestly, as far as movie tie-ins go, this isn't that bad)
Which one do you prefer? The HB or the PB? Neither? The awesome, why can't this be the American version? Sound off below!