Waiting on Wednesday
is a weekly event hosted by Breaking the Spine that spotlights upcoming releases we are eagerly anticipating. Click the link to see the original post plus a whole slew of links to other blogs. After you read this one, of course

.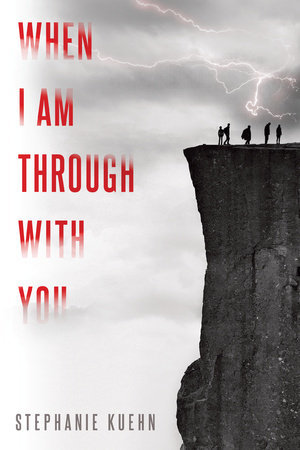 When I Am Through With You
Author: Stephanie Kuehn
Publisher: Dutton Books
Release Date: August 1, 2017
Goodreads:
"This isn't meant to be a confession. Not in any spiritual sense of the word. Yes, I'm in jail at the moment. I imagine I'll be here for a long time, considering. But I'm not writing this down for absolution and I'm not seeking forgiveness, not even from myself. Because I'm not sorry for what I did to Rose. I'm just not. Not for any of it."
Ben Gibson is many things, but he's not sorry and he's not a liar. He will tell you exactly about what happened on what started as a simple school camping trip in the mountains. About who lived and who died. About who killed and who had the best of intentions. But he's going to tell you in his own time. Because after what happened on that mountain, time is the one thing he has plenty of.
When I Am Through With You is a gripping story of survival and the razor's-edge difference between perfect cruelty and perfect love.
Why I'm Excited:
I love twisty thrillers--which I'm assuming this is. I also love unrelible narrators--which I'm also assuming this is despite what the synopsis says. I'll definitely be keeping my eyes open for this one.
What are you waiting for on this Wednesday? Link me up!