Waiting on Wednesday
is a weekly event hosted by Breaking the Spine that spotlights upcoming releases we are eagerly anticipating. Click the link to see the original post plus a whole slew of links to other blogs. After you read this one, of course

.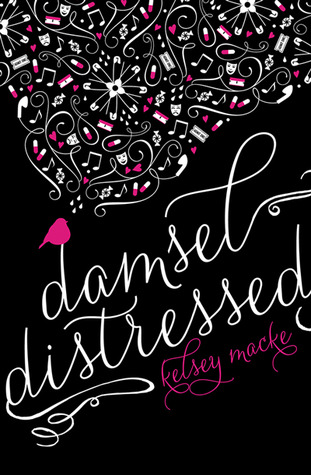 Damsel Distressed
Author: Kelsey Macke
Publisher:
Spencer Hill
Release Date: October 14, 2014
Link to
Goodreads:
Hot girls get the fairy tales. No one cares about the stepsisters' story. Those girls don't get a sweet little ending; they get a lifetime of longing

Imogen Keegen has never had a happily ever after–in fact, she doesn't think they are possible. Ever since her mother's death seven years ago, Imogen has pulled herself in and out of therapy, struggled with an "emotionally disturbed" special ed. label, and loathed her perma-plus-sized status.

When Imogen's new stepsister, the evil and gorgeous Ella Cinder, moves in down the hall, Imogen begins losing grip on the pieces she's been trying to hold together. The only things that gave her solace–the theatre, cheese fries, and her best friend, Grant–aren't enough to save her from her pain this time.

While Imogen is enjoying her moment in the spotlight after the high school musical, the journal pages containing her darkest thoughts get put on display. Now, Imogen must resign herself to be crushed under the ever-increasing weight of her pain, or finally accept the starring role in her own life story.

And maybe even find herself a happily ever after.
Why I'm Excited:
This sounds like a cute update of Cinderella from the not-so-evil stepsister's perspective. I wouldn't think this was a retelling, but the name Ella Cinder is a dead giveaway. Imogen sounds really interesting and I love books that feature school productions (random, I know). Also, I'm in love with that plump bird on the cover.
What are you waiting for on this Wednesday? Link me up!
Hey lovely GFC and new followers, please follow me by Bloglovin as we all know Google Reader has gone/is going by the wayside. (I like to follow back, so please let me know if you're a new follower--and leave a link!) Thank you!!!