Waiting on Wednesday
is a weekly event hosted by Breaking the Spine that spotlights upcoming releases we are eagerly anticipating. Click the link to see the original post plus a whole slew of links to other blogs. After you read this one, of course

.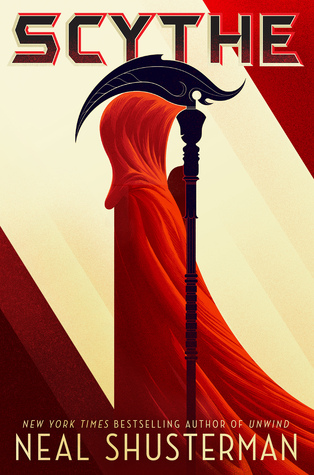 Scythe
Author: Neal Shusterman
Publisher: Simon & Schuster
Release Date: November 29, 2016
Synopsis from
Goodreads:
Two teens are forced to murder—maybe each other—in the first in a chilling new series from Neal Shusterman, author of the New York Times bestselling Unwind dystology.

In a world where disease has been eliminated, the only way to die is to be randomly killed ("gleaned") by professional reapers ("scythes"). Citra and Rowan are teenagers who have been selected to be scythe's apprentices, and—despite wanting nothing to do with the vocation—they must learn the art of killing and come to understand the necessity of what they do.

Only one of them will be chosen as a scythe's apprentice. And when it becomes clear that the winning apprentice's first task will be to glean the loser, Citra and Rowan are pitted against one another in a fight for their lives.


Why I'm excited:
That cover is so eye-catching. I'm intrigued by the idea of reaper apprentices. It reminds me of that short-lived TV show Dead Like Me (I loved that show--it was cancelled too soon), and the synopsis reminds me a bit of The Night Circus, too, with the pitting of two apprentices against each other. This sounds amazing (even if I really wish it was a stand-alone at not the start of yet another series), so I'll definitely be keeping my eyes out for this one.
What are you waiting for on this Wednesday? Link me up!
Hey lovely GFC and new followers, please follow me by Bloglovin. (I like to follow back, so please let me know if you're a new follower--and leave a link!) Thank you!!!