Weekly Rewind
The new books on my shelves and my week in a nutshell.
Throughout my student teaching semester I was using my weekend post as a way to let people know what's going on in my life, so I'v decided to rename my weekend post because this feature is more personal than just what books I've received. The Weekly Rewind will be about what's going on with me and my blog, as well as about the books I've added to my shelves. This post is linked to Stacking the Shelves over at
Tynga's Reviews

and the Sunday Post over at

Caffeinated Book Reviewer

.
Life:
I haven't written one of these in a couple of weeks. I was sooooo sick a couple of weeks ago, and last week, my husband came down to VA for the weekend and I just never got around to the blog. Not a whole lot is going on at the moment. Yesterday was the last day of the semester. Halfway there!
Blog and reading: I posted a WoW this week and a review for the book Scythe. I finally finished The Boy Came Back--which was really cute. I'm currently reading Magpie Murders and kind of By Your Side. As much as I love Kasie West...this one isn't really doing it for me. I've been slogging through it very slowly for about a month now and doubt I'll finish it by its release date.
New Books: Just a few this week. So without further ado, I hope you are all having fabulous weekends!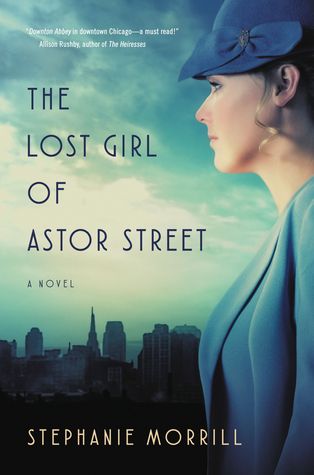 I'm struggling with this one...and I'm really disappointed in this cover. You couldn't take a photo in an actual library? Throwing a bunch of books on the floor doesn't symbolize library to me.
I love a good Kinsella book. I need to get on this one!
This doesn't come out until June, but I've been in the mood for dark and adult and got hooked after reading the first couple of pages. It's a novel in a novel book (although at a quarter of the way through, it's really just been the "novel" inside so far--but good).
Set in the 1920s in the underbelly of Chicago, a girl tries to solve her friend's murder. It sounds interesting, but it's not getting the best reviews...
What I snagged from the library
I didn't actually love Divergent. I thought the premise was rather ridiculous and didn't finish the series (yes, I know how it ends). That said, I found Roth's writing fast-paced and easy, so I'm excited to read something new from her.
A girl who is expected to follow in her family's footsteps and join a powerful spy group falls in love with the boy next door. I cannot resist spies! I don't know what it is.
Well that's it for me this week. Feel free to leave a link to whatever weekend post you do (Stacking the Shelves, The Sunday Post, etc). I love to see what books people have recently snagged and especially enjoy hearing about my fellow bloggers' weeks. I hope you are all having a fabulous weekend!