Waiting on Wednesday
is a weekly event hosted by Breaking the Spine that spotlights upcoming releases we are eagerly anticipating. Click the link to see the original post plus a whole slew of links to other blogs. After you read this one, of course

.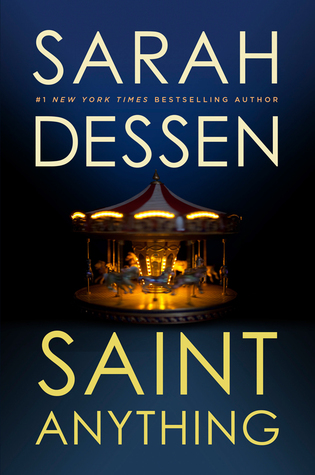 Saint Anything
Release Date: May 5, 2015
Peyton, Sydney's charismatic older brother, has always been the star of the family, receiving the lion's share of their parents' attention and—lately—concern. When Peyton's increasingly reckless behavior culminates in an accident, a drunk driving conviction, and a jail sentence, Sydney is cast adrift, searching for her place in the family and the world. When everyone else is so worried about Peyton, is she the only one concerned about the victim of the accident?
Enter the Chathams, a warm, chaotic family who run a pizza parlor, play bluegrass on weekends, and pitch in to care for their mother, who has multiple sclerosis. Here Sydney experiences unquestioning acceptance. And here she meets Mac, gentle, watchful, and protective, who makes Sydney feel seen, really seen, for the first time.
The uber-popular Sarah Dessen explores her signature themes of family, self-discovery, and change in her twelfth novel, sure to delight her legions of fans.
Why I'm excited:
Look, I know I'm not showing you anything you haven't seen before this week, but it's Sarah Dessen! And it finally has a cover! (Albeit a pretty generic, snooze-ville cover.) While I don't always LOVE her novels, I do admire how Ms. Dessen really tackles family relationships. If there is an absentee parent, it doesn't feel like it is just for convenience. She really understands true family dynamics which is truly spectacular gift for a YA author. In addition, I just cannot stomach any new series right now, so I'm flocking to contemporary stand-alones now more than ever. I cannot wait to get my hands on this one. Nothing says summer like a new S.D. novel.
Hey lovely GFC and new followers, please follow me by Bloglovin. (I like to follow back, so please let me know if you're a new follower--and leave a link!) Thank you!!!