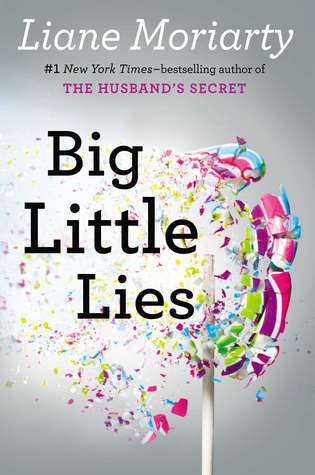 Little Big Lies
Author: Liane Moriarty
Publisher: Putnam
Release Date: July 29, 2014
Synopsis:
Sometimes it's the little lies that turn out to be the most lethal. . . .
A murder… . . . a tragic accident… . . . or just parents behaving badly?
What's indisputable is that someone is dead. But who did what?
Big Little Lies
follows three women, each at a crossroads: Madeline is a force to be reckoned with. She's funny and biting, passionate, she remembers everything and forgives no one. Her ex-husband and his yogi new wife have moved into her beloved beachside community, and their daughter is in the same kindergarten class as Madeline's youngest (
how
is this possible?). And to top it all off, Madeline's teenage daughter seems to be choosing Madeline's ex-husband over her. (How. Is. This. Possible?).
Celeste is the kind of beautiful woman who makes the world stop and stare. While she may seem a bit flustered at times, who wouldn't be, with those rambunctious twin boys? Now that the boys are starting school, Celeste and her husband look set to become the king and queen of the school parent body. But royalty often comes at a price, and Celeste is grappling with how much more she is willing to pay. New to town, single mom Jane is so young that another mother mistakes her for the nanny. Jane is sad beyond her years and harbors secret doubts about her son. But why? While Madeline and Celeste soon take Jane under their wing, none of them realizes how the arrival of Jane and her inscrutable little boy will affect them all.
Big Little Lies
is a brilliant take on ex-husbands and second wives, mothers and daughters, schoolyard scandal, and the dangerous little lies we tell ourselves just to survive.
******************************************************************************
MY THOUGHTS:
With my current commute being an hour each way, I've become enamored with books on CD. I had fallen out of the habit of snagging audio books when my commute in PA dropped from an hour a day to 15 minutes a day. Thankfully, the library I go to here in FL is well-stocked with audio books, and after the first few months of just re-listening to books I'd already read (Harry Potter) or funny memoirs (Bossypants, Dad is Fat), I decided to break out when I saw this one on the shelf. I'm so glad I did because while this is a book I might have set aside if I was just reading it, the narrator of the story drew me in immediately and I savored my time in the car for the week or so I listened to this.
Big Little Lies is a murder mystery where the reader is trying to figure out not only whodunit, but also who has died. It is also "women's fiction" about marriage and motherhood. The story follows three women who all have children in the same kindergarten class: Jane, the new mom in town who, in her early 20s, is younger than the other mothers and actually mistaken as the nanny at first; Celeste, a quiet beauty who is harboring a dark secret; and Madeline, the true main character of the story who is best friends with Celeste and who takes Jane under her wing.
Madeline, while happily married to her second husband, is not quite over the divorce to her first husband, Nathan, who has moved into the neighborhood with his new wife, Bonnie, who is perfect in every way. He walked out on her and her daughter, Abigail, when Abigail was just a baby. Now not only does she have to deal with the fact that Bonnie and Nathan's daughter is in her youngest child's kindergarten class, but the inconceivable fact that Abigail seems to be choosing Nathan over her. Choosing a man who walked out on them! I have to admit that Madeline was my favorite character. She is hilarious and ballsy, and I completely agreed with her that it was complete rubbish that her ex-husband chose to move into her neighborhood with his new wife.
Celeste was the most frustrating character for me. She and her husband have the seemingly perfect relationship complete with twin boys, but there is a darkness to the relationship I will let you discover for yourself.
Jane, a woman in her early 20s is just trying to make a better life for her and her little boy Ziggy. The paternity of Ziggy is another mystery of the story, and it is obvious that whatever happened the night that he was conceived has effected Jane immensely. When Ziggy is accused of harming another student on orientation day, it sets off the series of events that culminates in a murder at the parents' trivia night.
I really enjoyed this novel, but I will stress again that the narration of the audio book really helped my enjoyment. Caroline Lee's voice, complete with awesome Aussie accent, really pulled me in to the story. I don't read a lot of "women fiction", mostly because I just can't relate to parenthood. If this story didn't have the murder mystery--I'm a sucker for a good mystery--it probably wouldn't have held my interest as much as it did. The story goes on a little bit too long, and, again, I got incredibly frustrated by Celeste's story line. Aside from these little issues, I found the story intriguing and was genuinely surprised by the outcome.
Recommended, especially if you love a good mystery.