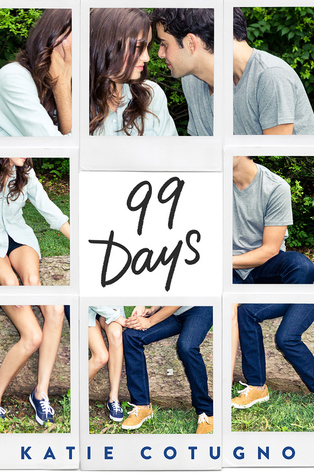 99 Days
Author: Katie Cotugno
Publisher: Baltzer + Bray
Release Date: April 21, 2015
Day 1: Julia Donnelly eggs my house my first night back in Star Lake, and that's how I know everyone still remembers everything—how I destroyed my relationship with Patrick the night everything happened with his brother, Gabe. How I wrecked their whole family. Now I'm serving out my summer like a jail sentence: Just ninety-nine days till I can leave for college, and be done.
Day 4: A nasty note on my windshield makes it clear Julia isn't finished. I'm expecting a fight when someone taps me on the shoulder, but it's just Gabe, home from college and actually happy to see me. "For what it's worth, Molly Barlow," he says, "I'm really glad you're back."
Day 12: Gabe got me to come to this party, and I'm actually having fun. I think he's about to kiss me—and that's when I see Patrick. My Patrick, who's supposed to be clear across the country. My Patrick, who's never going to forgive me.
************************************************************************
My Thoughts:
From the moment I saw this cover and read the description, I knew I was going to love this story. The narrative takes place over 99 Days (you probably gathered that from the title, you smarty pants, you). I absolutely loved the format the author used for this--with each chapter being one of the 99 days. The chapters varied in lengths with some being super short and others long. The 99 days are the days of the summer that Molly Barlow has to spend back in her hometown before she can leave for college after spending her senior year at a boarding school. While the story is told one day at a time, Molly often flashbacks into the past to give us a full understanding of the story and why she fled her hometown in the first place.
Why did she leave? you ask. Well, that's the heart of the story. Molly's whole life has been tied with the Connellys, especially Patrick Connelly. From being inseparable friends when they were little, to being in love as teenagers, they have always been intertwined. That all changed when Molly's mom, a famous author, did the unthinkable: she published a novel torn directly from her daughter's life that revealed her biggest lie. Back in her sophomore year, she slept with Patrick's older brother, Gabe. Feeling like the entire town has turned their backs on her, Molly escapes for her senior year, only to have to return for the summer.
Molly secures a job at the lakeside inn where she used to spend her summers, now under new management. There she meets Patrick's new girlfriend, a girl she actually can't help but like. She also finds herself becoming involved once again with Gabe...while still occasionally yearning for Patrick who was once her whole world. She is trying to find a way to reconnect with the girl who was her best friend before she made her great escape. She is also trying to decide if she can ever forgive her mother for her enormous betrayal. And while these relationships are important, the bulk of the story is about Molly and the two fellas.
Besides the unique format, what I appreciated most about this story is that both of the boys were realistic. While both boys are charming in their own ways, they both have some serious flaws, too. The author also explores the ways in which the girl is so often labeled the slut, when in this case, one part of the cheating pair was a blood relative of the "victim." The relationship between the two boys is frayed and tenuous, but not necessarily because of Molly. Sibling relationships are so complicated, and the author does a good job exploring this.
I'll be honest, while I hate reading about cheating when a marriage is involved, I don't automatically hate it when cheating occurs in YA. Frankly, at the age of 16, 17, or 18, the protagonists are so young that the relationships probably wouldn't have worked out anyway. This is a general statement, not a reflection of this particular book: High school romances rarely last--and while it is awesome when they do--I feel like that is probably for the best that they don't. Young people should explore what is out there. They should feel the highs of love and lows of heartbreak. They should be single and hang out with their friends. They should feel the giddiness of falling for someone new. They should pine for the one who got away. So while you might hear complaints about the cheating and the love triangle from others, you won't hear it from me. Teens make mistakes (adults make mistakes). They are young and still becoming who they really are. So while Molly, and all of the characters, makes some seriously stupid choices, I still liked and cheered for them.
I really enjoyed this story and ate it up. I kept telling myself: just one more chapter, and was through the whole story before I knew it. I loved the format and appreciated the realistic and gritty relationships from the shaky friendships to the tenuous familial relationships to the romance.
Definitely recommend.
I received an advanced reader's copy of this book from the publisher in exchange of honest review.