Waiting on Wednesday
is a weekly event hosted by Breaking the Spine that spotlights upcoming releases we are eagerly anticipating. Click the link to see the original post plus a whole slew of links to other blogs. After you read this one, of course

.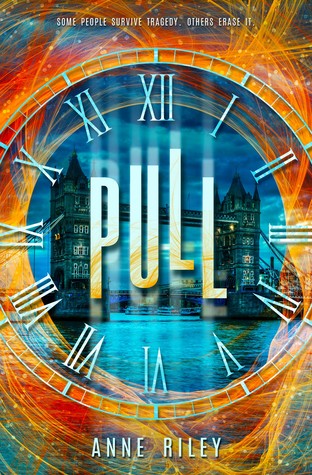 Pull

Author: Anne Riley
Publisher: Spencer Hill
Release Date: December 8, 2015
Rosie Clayton witnesses a mugging on her first night in London—and then the scene rewinds itself.

She finds herself standing in the same place again, with the mugging happening just like before, except this time a stranger steps in and stops it. There's no way the same incident can have two outcomes. Rosie thinks she's losing her mind, until just a few days later, the stranger saves her.

The stranger, Albert, and his band of misfit crime-fighters, have the special ability to Pull, which allows them to rewind just enough time to undo a recent event. Someone is hunting Albert and his crew– and now that Rosie's been seen with them, she's a target too. Rosie is left with no choice but to trust Albert to keep her safe.

As Rosie learns more about this unbelievable ability and the people – if you can call them that – who want them dead, she discovers that the group's desire for her blood might be more than mere coincidence. Each step into this magical side of London introduces Rosie to a family history that she never knew existed, and dangerous forces that could unravel her world in an instant.

Her family may be the reason they're all being hunted—and she may be the only one who can figure out how to save them. Sure, between the lot of them, they have a few shots to get it right. The thing about Pulling, though, is you have to be alive to do it.
Why I'm Excited:
Being able to "rewind" the last few minutes isn't exactly a new concept, but I have to admit that it is one that peaks my interest every time. I'm curious about the "magical side of London" and want to know about her family's history. This cover is pretty, too. I'm not in love, but I do like London Bridge hanging out in the background. Definitely keeping my eye open for this one.
What are you waiting for on this Wednesday? Link me up!
Hey lovely GFC and new followers, please follow me by Bloglovin. (I like to follow back, so please let me know if you're a new follower--and leave a link!) Thank you!!!