Waiting on Wednesday
is a weekly event hosted by Breaking the Spine that spotlights upcoming releases we are eagerly anticipating. Click the link to see the original post plus a whole slew of links to other blogs. After you read this one, of course

.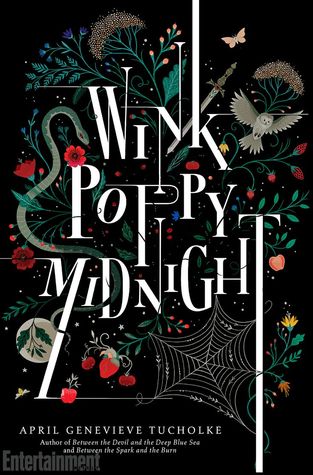 Wink Poppy Midnight
Author: April Genevieve Tucholke
Publisher: Dial
Release Date: March 22, 2016
Synopsis from
Goodreads:
The intrigue of The Virgin Suicides and the "supernatural or not" question of The Unbecoming of Mara Dyer coalesce in this young adult mystery, where nothing is quite as it seems, no one is quite who you think, and everything can change on a dime.

Every story needs a hero.
Every story needs a villain.
Every story needs a secret.

Wink is the odd, mysterious neighbor girl, wild red hair and freckles. Poppy is the blond bully and the beautiful, manipulative high school queen bee. Midnight is the sweet, uncertain boy caught between them. Wink. Poppy. Midnight. Two girls. One boy. Three voices that burst onto the page in short, sharp, bewitching chapters, and spiral swiftly and inexorably toward something terrible or tricky or tremendous.

What really happened?
Someone knows.
Someone is lying.

For fans of Holly Black, We Were Liars, and The Raven Boys, this mysterious tale full of intrigue, dread, beauty, and a whiff of something strange will leave you utterly entranced.

Why I'm Excited:
Look at that cover! I'm seriously in love. This book sounds beyond intriguing, too. Throw out titles like The Virgin Suicides, We Were Liars, and The Raven Boys, and you better believe I'm going to sit up and pay attention...but those are also some pretty big shoes to fill. I cannot wait to get my hands on this one. C'mon Dial: gimme, gimme, gimme.

What are you waiting for on this Wednesday? Link me up!
Hey lovely GFC and new followers, please follow me by Bloglovin. (I like to follow back, so please let me know if you're a new follower--and leave a link!) Thank you!!!