Waiting on Wednesday
is a weekly event hosted by Breaking the Spine that spotlights upcoming releases we are eagerly anticipating. Click the link to see the original post plus a whole slew of links to other blogs. After you read this one, of course

.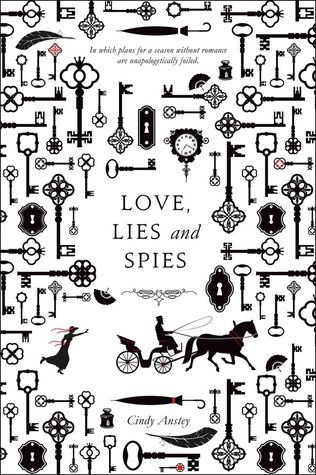 Love, Lies and Spies
Author: Cindy Anstey
Publisher: Swoon Reads
Release Date: April 19, 2016
Synopsis from
Goodreads:
Juliana Telford is not your average nineteenth-century young lady. She's much more interested in researching ladybugs than marriage, fashionable dresses, or dances. So when her father sends her to London for a season, she's determined not to form any attachments. Instead, she plans to secretly publish their research.

Spencer Northam is not the average young gentleman of leisure he appears. He is actually a spy for the War Office, and is more focused on acing his first mission than meeting eligible ladies. Fortunately, Juliana feels the same, and they agree to pretend to fall for each other. Spencer can finally focus, until he is tasked with observing Juliana's traveling companions . . . and Juliana herself.
Why I'm Excited:
That cover! I will always--always--be drawn to graphic black and white covers, and this one is amazing. I almost don't even care what this is about...although it actually sounds like a fun love story about two independent souls. Will definitely be keeping my eyes open for this one.
What are you waiting for on this Wednesday? Link me up!
Hey lovely GFC and new followers, please follow me by Bloglovin. (I like to follow back, so please let me know if you're a new follower--and leave a link!) Thank you!!!