Waiting on Wednesday
is a weekly event hosted by Breaking the Spine that spotlights upcoming releases we are eagerly anticipating. Click the link to see the original post plus a whole slew of links to other blogs. After you read this one, of course

.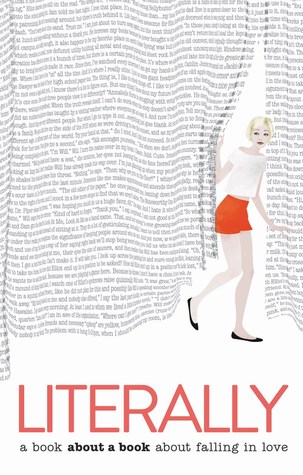 Literally
Author: Lucy Keating
Publisher: HarperTeen
Release Date: April 11, 2017
Goodreads:
A girl realizes her life is being written for her in this unique, smart love story that is Stranger Than Fiction for fans of Stephanie Perkins.

Annabelle's life has always been Perfect with a capital P. Then bestselling young adult author Lucy Keating announces that she's writing a new novel—and Annabelle is the heroine.

It turns out, Annabelle is a character that Lucy Keating created. And Lucy has a plan for her.

But Annabelle doesn't want to live a life where everything she does is already plotted out. Will she find a way to write her own story—or will Lucy Keating have the last word?

The real Lucy Keating's delightful contemporary romance blurs the line between reality and fiction, and is the perfect follow-up for readers who loved her debut Dreamology, which SLJ called, "a sweet, quirky romance with appealing characters."
Why I'm Excited:
Ok, so that really does literally (ahem) sound like Stranger Than Fiction (which is an awesome movie if you've not seen it), but it sounds really fun regardless. I love that the author in the book is the author of the book.

I'll definitely be keeping my eyes out for this one.
What are you waiting for on this Wednesday? Link me up!
Hey lovely GFC and new followers, please follow me by Bloglovin. (I like to follow back, so please let me know if you're a new follower--and leave a link!) Thank you!!!