Waiting on Wednesday
is a weekly event hosted by Breaking the Spine that spotlights upcoming releases we are eagerly anticipating. Click the link to see the original post plus a whole slew of links to other blogs. After you read this one, of course

.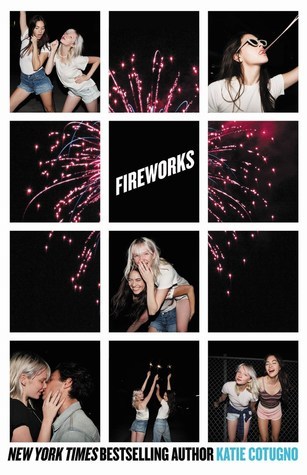 Fireworks
Author: Katie Cotugno
Publisher: Balzer + Bray
Release Date: April 18, 2017
Goodreads:
From Katie Cotugno, bestselling author of 99 Days, comes Fireworks—about a girl who is competing with her best friend to become the new pop star of the moment—and all the drama and romance that comes with it—set in Orlando during the late-'90s boy-and-girl-band craze.

It was always meant to be Olivia. She was the talented one, the one who had been training to be a star her whole life. Her best friend, Dana, was the level-headed one, always on the sidelines, cheering her best friend along.

But everything changes when Dana tags along with Olivia to Orlando for the weekend, where superproducer Guy Monroe is holding auditions for a new singing group, and Dana is discovered too. Dana, who's never sung more than Olivia's backup. Dana, who wasn't even looking for fame. Next thing she knows, she and Olivia are training to be pop stars, and Dana is falling for Alex, the earnest, endlessly talented boy who's destined to be the next big thing.

It should be a dream come true, but as the days of grueling practice and constant competition take their toll, things between Olivia and Dana start to shift . . . and there's only room at the top for one girl. For Olivia, it's her chance at her dream. For Dana, it's a chance to escape a future that seems to be closing in on her. And for these lifelong best friends, it's the adventure of a lifetime—if they can make it through.

Set in evocative 1990s Orlando, New York Times bestselling author Katie Cotugno's Fireworks brings to life the complexity of friendship, the excitement of first love, and the feeling of being on the verge of greatness.
Why I'm Excited:
I really enjoyed 99 Days (it is being released in PB on Tuesday!), so of course I'm excited for this one. I love that it is about the 90's boy/girl band craze. I love the 90s. I did a post about how much I love the 90s which you can find here (If you do decide to read this post, please disregard all the missing graphics. I just went to find the link and cannot believe how many of the pictures/gifs are now missing--and I'm way too lazy to recr

eate this post from over two years ago)
. I cannot wait to get my hands on th
is book.
What are you waiting for on this Wednesday? Link me up!
Hey lovely GFC and new followers, please follow me by Bloglovin. (I like to follow back, so please let me know if you're a new follower--and leave a link!) Thank you!!!