Is there anything worse than seeing a drop-dead beautiful cover only to find out that it is from another country? (Ok, yes, there are way worse things, but can we all agree that it is at least a little heartbreaking?) Like my Why, Publishers, Why?! posts this won't be a weekly feature, but every once in awhile I'm going to be focusing on beautiful covers I covet but can't have because I don't have the money I spend on books as it is, let alone books from other countries that come with international shipping charges (yet...I will be rich someday...right?).
Today's focus: Uprooted by Naomi Novik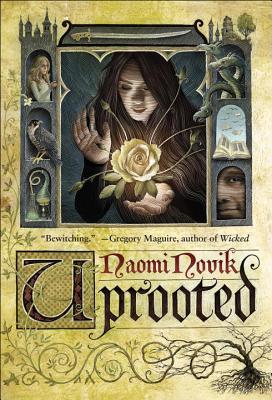 I don't hate the US cover (left or first, I guess, depending on the size of the screen you're viewing this one). In do, in fact, quite like it. I love the font used, the tree with the branches spreading throughout the cover, and the fact that the pictures are in the windows of the towers. It's a lovely cover. It just cannot compare, in my opinion, to the awesomeness that is the UK edition (middle or second). I'm seriously in love with this cover and have been since I first laid eyes on it and jealously sunk in. I love everything about this UK cover, but I especially love the way the one house is in the long shadow of the tower. This may be one international edition I eventually find a way to own. To make things even more interesting, look at the PB edition that comes out in the UK this May (right or third). I wants this version as well!
Like always, I'd love to hear from you! Which cover is your favorite?