Waiting on Wednesday
is a weekly event hosted by Breaking the Spine that spotlights upcoming releases we are eagerly anticipating. Click the link to see the original post plus a whole slew of links to other blogs. After you read this one, of course

.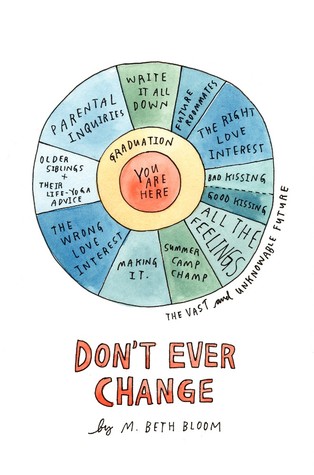 Don't Ever Change

Authors: Beth Bloom
Publisher: HarperTeen
Release Date: July 7, 2015
Link to
Goodreads:
Sometimes the only way to learn about yourself is to try to change everything about you.

Eva has always wanted to write a modern classic—one that actually appeals to her generation. The only problem is that she's starting to realize she can't "write what she knows" because she hasn't really lived. So the summer before heading off to college, Eva is determined to live a life worth writing about.

But soon Eva's story starts to go in unexpected directions, like growing apart from her best friends, working at a job she is completely unqualified for, and even falling for the last person she would have ever imagined. Like anyone, though, it will be up to Eva to figure out how she wants this particular chapter in her story to end.

Perfect for fans of E. Lockhart, David Levithan, and Rainbow Rowell, Don't Ever Change is a witty, snarky, and thought-provoking coming-of-age novel about a teen who sets out to write better fiction and, ultimately, discovers the truth about herself.
Why I'm Excited:
I love books about writers, and this one sounds really fun. Witty, snarky, and thought provoking...sounds right up my alley. I love e. lockhart, too (and Ms. Rowell), so any comparisons definitely pique my interest.
What are you waiting for on this Wednesday? Link me up!
Hey lovely GFC and new followers, please follow me by Bloglovin. (I like to follow back, so please let me know if you're a new follower--and leave a link!) Thank you!!!