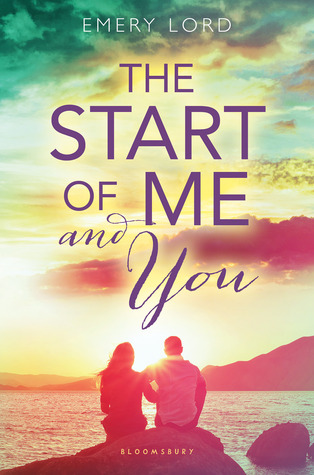 The Start of Me and You
Author: Emery Lord
Publisher: Bloomsbury
Release Date: March 31, 2014
Following her pitch-perfect debut Open Road Summer, Emery Lord pens another gorgeous story of best friends, new love, & second chances.
Brimming with heartfelt relationships and authentic high-school dynamics
The Start of Me and You
proves that it's never too late for second chances.
It's been a year since it happened—when Paige Hancock's first boyfriend died in an accident. After shutting out the world for two years, Paige is finally ready for a second chance at high school . . . and she has a plan. First: Get her old crush, Ryan Chase, to date her—the perfect way to convince everyone she's back to normal. Next: Join a club—simple, it's high school after all. But when Ryan's sweet, nerdy cousin, Max, moves to town and recruits Paige for the Quiz Bowl team (of all things!) her perfect plan is thrown for a serious loop. Will Paige be able to face her fears and finally open herself up to the life she was meant to live?
************************************************************************
My Thoughts:


Despite hearing absolutely nothing but good things for Emery Lord's debut,
Open Road Summer
, I have yet to read it. Sometimes I shy away from books that get a lot of love (I'm adversarial that way). Regardless, I was thrilled to snag an early copy of
The Start of Me and You
and dived into it a bit early when I found myself in the mood for a sweet romance. Thankfully, it delivered. While the book isn't only a romance, its tone and story was exactly what I needed in those last stressful days before the start of spring break when my students (and I) were feeling so restless.
Paige Hancock has spent the last year trying to get over the shocking drowning death of her boyfriend a year before. She has decided that things need to change at the start of her junior year and she makes herself a list of the things she wants to do to live the life she wants: date Ryan Chase, her longtime crush; start going to parties/social events; join a group of some sort; travel; and swim. Since Aaron's death, she has been terrified of getting in the water and even dreams of drowning herself.
Paige is in a tight group with three other girls, and before she knows it, her group of friends has befriended Ryan and his cousin Max. Max is a somewhat nerdy boy who used to go to school with all of them, but has spent the past couple of years at a private school. He and Ryan are incredibly close, though, so he has decided to come back to public school after Ryan recently went through a break-up with his long-term girlfriend. Paige is surprised how easy she finds it to talk to Max and finds herself agreeing to join the Quiz Bowl team that he belongs to. She is also surprised how easy she finds it to be friends with Ryan after crushing on him for so long.
Paige's family is going through a lot, too. After a nasty divorce, Paige's parents have started dating each other. Paige knows she should be happy for them, but she just cannot get over how bad it was when their relationship fell about the first time. In addition, Paige's grandmother, who she is extremely close to, is battling alzheimers disease.
I loved
The Start of Me and You
. I loved her group of friends (although I have to admit that I had a really hard time keeping the other three girls straight). I loved Max and Ryan and Max and Ryan together. I loved how realistic the story was, Paige was, her parents were, etc. I loved the writing--especially the different things the author had to say about friendship. I'm not even going to ramble on anymore.
The Start of Me and You
was adorable without being cutesy which tends to be my favorite type of story. Read it. (And yes, I will be reading
Open Road Summer
). Now here are some of my favorite quotes (taking from the ARC, so quotes may change):
When it all closes in, there are only two kinds of people: best friends and everyone else.
In history class yesterday, she raised her hand to politely suggest that the teacher was slut-shaming Anne Boleyn.
Definitely Recommend.
*I received an ARC from the publisher in exchange of an honest review.*