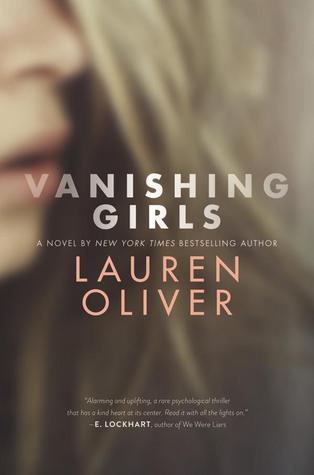 Vanishing Girls
Author: Lauren Oliver
Publisher: HarperCollins
Release Dates: March 10, 2015
Synopsis from
New York Times bestselling author Lauren Oliver delivers a gripping story about two sisters inexorably altered by a terrible accident.
Dara and Nick used to be inseparable, but that was before the accident that left Dara's beautiful face scarred and the two sisters totally estranged. When Dara vanishes on her birthday, Nick thinks Dara is just playing around. But another girl, nine-year-old Madeline Snow, has vanished, too, and Nick becomes increasingly convinced that the two disappearances are linked. Now Nick has to find her sister, before it's too late.
In this edgy and compelling novel, Lauren Oliver creates a world of intrigue, loss, and suspicion as two sisters search to find themselves, and each other.
"Alarming and uplifting, a rare psychological thriller that has a kind heart at its center. Read it with all the lights on." -- E. Lockhart, author of We Were Liars.
***********************************************************************
My Thoughts:

The arc of this book that I read opened with a letter from the author in which she described her thoughts about the lives of sisters. What stuck out to me about this letter was this:
...We form our identities in opposition to our siblings--at a certain point, we deliberately strive for separateness and difference, although in doing so we unconsciously stay very closely aware of our sibling counterparts, basing our characteristics and preferences in part on an inverted sense of what they would do/say/like.
Again, this sincerely struck a chord deep within me. You see, I have an older sister. A sister whom I love, but have very little in common. She is 4 years older than me, and although we have a great relationship now that we are adults, we were not close growing up. We don't even look like we are related. Where she is dark (brown hair and eyes, tans easily), I am light (blonde--very blonde as a girl--green eyes, as fair as can be). I was the wild one with, somewhat paradoxically, a deep love for reading. This isn't a new thing; books have always played a huge role in my life. Every summer, I would hole up in my room and read the summer vacation away while she wanted to play outside. Even with these nerdy tendencies, though, our first times getting drunk were mere weeks apart despite the four year gap, for example. Because of our differences, I understood this idea that these disparities between sisters may be an unconscious way to separate themselves. To find a way to be an individual. Reading this letter before reading the story also helped open my eyes to the writing and the characteristics of our two main characters. I was conscious of what the author was trying to do which could have ended up being a bad thing, but I liked the awareness.
Nick and Dara were always close until the two got into a terrible car accident some months before the start of our story. The circumstances of the accident are a bit of a mystery as Nick doesn't really remember it, and Dara--who was once so beautiful--doesn't want to talk about it as it has left her face scarred. After spending the past couple of months with her father, Nick is about to live in the same house as Dara again and she is resolute that she will find away for the two of them to connect and be close again. Dara, however, doesn't want anything to do with her older sister.
It isn't just the accident that has driven a wedge between the two of them, though, there is also a boy (of course). Parker, the gorgeous boy next door, has been Nick's best friend for years. The two have always done things together--with Dara tagging behind--but in the months before the accident things began to change between the two of them. They changed because sexy, wild Dara decided to make Parker her own. Even though the two split up before the accident, things don't feel complete between the two...and things between Nick and Parker are still off, as well.
When Nick's mom decides that Nick is going to work at the local amusement park, the same park that Parker happens to work at, Nick is forced to examine her own feelings about her former best friend, and Dara's former boyfriend.
While I ultimately ended up liking this one quite a bit, not everything in this story worked for me. There is a sub-plot about a missing little girl that didn't quite fit, in my opinion, although it ties to Dara's own disappearance over half-way through the story. Honestly, even though I was enjoying this story, I ended up putting it down for a couple of weeks because it wasn't holding my attention completely.
What ended up making this story for me were two things: 1. the realistic look at sister relationships which is honestly quite refreshingly done in this book, and 2. the last 25% or so of the book when it both picks up the pace and throws in a couple of serious loopy-loops I didn't see coming.
In the end, I would definitely recommend this book--especially if you have a sister. It is so hard to write realistic family dynamics, and Ms. Oliver does it splendidly here. While my personality is probably more in-line with Dara's, I really liked Nick and found myself siding with her. And while the mystery aspect wasn't my favorite (which is weird because I LOVE a good mystery), it was hard for me to put down in the third act because I just had to know what happened. This was well-written and different.
Definitely Recommend.