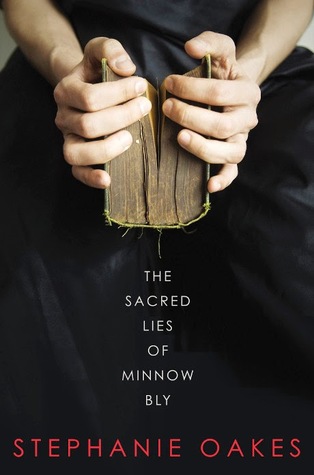 The Sacred Lies of Minnow Bly
Author: Stephanie Oakes
Publisher: Dial
Release Date: June 9, 2015
Synopsis:
With a harrowing poetic voice, this contemporary page-turner is perfect for fans of Laurie Halse Anderson's Speak, Julie Berry's All The Truth That's in Me, and the works of Ellen Hopkins.

The Kevinian cult has taken everything from seventeen-year-old Minnow: twelve years of her life, her family, her ability to trust.

And when she rebelled, they took away her hands, too.

Now their Prophet has been murdered and their camp set aflame, and it's clear that Minnow knows something—but she's not talking. As she languishes in juvenile detention, she struggles to un-learn everything she has been taught to believe, adjusting to a life behind bars and recounting the events that led up to her incarceration. But when an FBI detective approaches her about making a deal, Minnow sees she can have the freedom she always dreamed of—if she's willing to part with the terrible secrets of her past.

The Sacred Lies of Minnow Bly is a hard-hitting and hopeful story about the dangers of blind faith—and the power of having faith in oneself.
************************************************************
My thoughts:
I was intrigued by this book the minute I first learned about it, and even had it as a WoW pick months ago. I was hoping to snag an early copy, but honestly, I've barely (*ahem* haven't) been able to get to my review books anyway, so it wasn't a big deal that I wasn't able to. Regardless, this was the first book I dove into to start off my summer break, and I couldn't have picked a better one. The Sacred Lies is wonderful. I was immediately hooked by Minnow's story and never got the "middle-of-the-story" blahs that often makes me "set a book aside" in favor of another one.
From a very young age, Minnow Bly has only known life in The Community--a cult living deep in the forests of Montana. The Community follows a bat-shit crazy religion called Kevinism (as in their leader is named Kevin, although he is known as "The Prophet") that believes that God was "born" in the 1700s in America. How God couldn't have existed until the 1700s is just one of the questions that plagues Minnow about the religion her parents so blindly follow. The older Minnow gets, the more she questions life in The Community, until her rebellion gets to be too much for The Prophet and he orders for both of her hands to be chopped off. This sets off a string of events that leaves The Community burned to the ground and The Prophet dead (the book is mostly told in flashback--that wasn't a spoiler).
When we first meet Minnow she is being thrown into a juvenile detention center until her 18 birthday for stomping a stranger almost to death. She has the next several months to prove that she should make parole, or she will spend the next better part of a decade in prison once she reaches 18. The doctor/counselor/cop that has been assigned to her case makes her a deal: if she tells him who murdered The Prophet, he will vouch for her at her parole hearing. It is through their conversations, and the memories of her past life that sneak up on her during her confinement, that we learn about the horrific life she had at the hands of an evil man...really at the hands of the evil men, and women, who have tried to escape society and only succeeded in becoming the very worst of it.
I could write a huge review of this book, but I'm not going to. I want for you to discover Minnow's world on your own. What I will say is this: I was equally enthralled with Minnow's life in the detention center--especially with her roommate Angel--and the world of the cult she escaped.
The Sacred Lies of Minnow Bly tackles many issues: religion, faith, friendship, autonomy, but more than anything it looks at the atrocities that girls and women face every single day. The Prophet punished anyone who steps out of line, but you can see that he takes the most pleasure in punishing girls--not women, girls. Minnow has a couple of profound moments of clarity about how the girls around her in juvie are there because they were cast aside by those that should have loved them the most.
I really cannot recommend this enough. I rarely had time to read this year and when I did, I often found it difficult to get into anything. It was truly the worst slump I've ever gone through. I wanted to read this. Even if this doesn't sound like a book you wouldn't normally go for, I still say give it a try. It's different and important.
Highly recommend.