Waiting on Wednesday
is a weekly event hosted by Breaking the Spine that spotlights upcoming releases we are eagerly anticipating. Click the link to see the original post plus a whole slew of links to other blogs. After you read this one, of course

.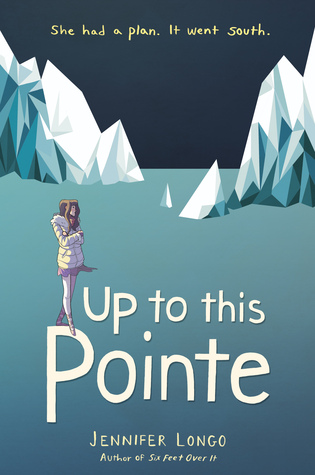 Up to This Pointe

Author: Jennifer Longo
Publisher: Random House
Release Date: January 19, 2016
A refreshingly original contemporary YA, unlike anything readers have seen before. Perfect for fans of Jandy Nelson, John Corey Whaley, and Libba Bray.

She had a plan. It went south.

Harper is a dancer. She and her best friend, Kate, have one goal: becoming professional ballerinas. And Harper won't let anything—or anyone—get in the way of The Plan, not even the boy she and Kate are both drawn to.

Harper is a Scott. She's related to Robert Falcon Scott, the explorer who died racing to the South Pole. So when Harper's life takes an unexpected turn, she finagles (read: lies) her way to the icy dark of McMurdo Station . . . in Antarctica. Extreme, but somehow fitting—apparently she has always been in the dark, dancing on ice this whole time. And no one warned her. Not her family, not her best friend, not even the boy who has somehow found a way into her heart.
Why I'm Excited:
I'm always--always--drawn to books about ballerinas. If you follow me at all, you are probably aware of this because I've mentioned it a few hundred times. I so wanted to be a dancer growing up, and love the world. The addition of the Scott family legacy and a trip to Antarctica make this sound interestin

g

and original. Definitely keeping my eye out for this one.
What are you waiting for on this Wednesday? Link me up!
Hey lovely GFC and new followers, please follow me by Bloglovin. (I like to follow back, so please let me know if you're a new follower--and leave a link!) Thank you!!!